CardAvantaj VIRTUAL but with advantages as real as possible
In addition to the benefits of a physical card, the virtual card comes with extra security benefits.
Virtual card, real benefits.
It is unlikely that you will be a victim of fraud, the virtual card cannot be stolen, and the card data can only be accessed by you in the AVANTAJ2go application.
Anonymized payments
Nowadays, more and more people are concerned about the safety of their personal data online. The virtual card is perfect for those who do not want to provide information about cards issued in physical format.
The perfect alternative of the main card
If you encounter difficulties in using the main card issued in physical format (loss, theft, demagnetization), you can use the virtual card until you receive the reissued physical card, so you still have access to your credit limit.
Install the application AVANTAJ2go and enjoy the benefits of CardAvantaj Virtual.
Registering the CardAvantaj Mastercard Virtual card in electronic payment applications
Similar to physical CardAvantaj Mastercard cards, also the virtual CardAvantaj Mastercard cards can be easily enrolled in any of the electronic payment applications Apple Pay or Google Pay.
Follow a few simple steps and enjoy secure payments through CardAvantaj Virtual
Let's say you forgot your wallet at home. It happens. It's ok, don't worry, you don't have to go back because you can issue your Virtual CardAvantaj directly from your phone. It's very simple, no trips to the bank, you save time and you can use the card immediately.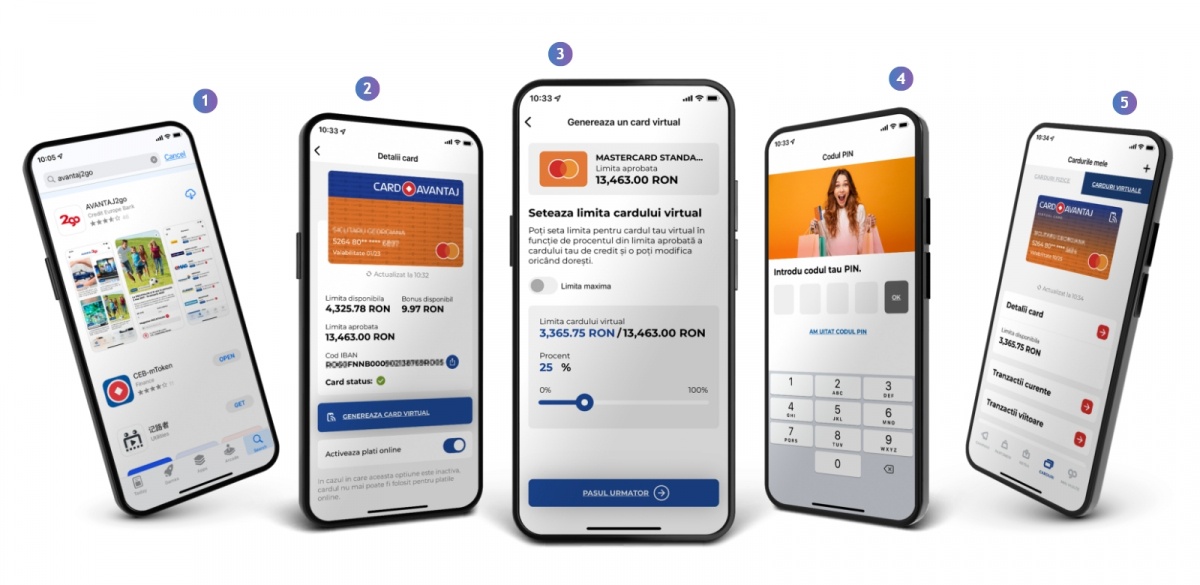 Issue yourself a virtual card by following the steps below:
Install the AVANTAJ2go app for free from the App Store or Google Play.
Go to the CARDS menu and choose to generate a Virtual CardAvantaj in the Card Details section.
Set the limit percentage you want to allocate to the virtual card.
Accept the "Terms and conditions" and authorize its issuance by entering the application's PIN code or biometric data.
You can view the details of your new virtual card in the Virtual Cards tab.
---
* Pentru moment, doar cardurile virtuale și / sau fizice CardAvantaj Mastercard pot fi înrolate în aplicațiile electronice de plată de tipul Apple Pay sau Google Pay.
Watch the video tutorial on how to issue a virtual card on CardAvantaj's YouTube channel!
Video Tutorial
Frequently asked questions about virtual cards